Advanced
Thai Yoga Massage course
with Itzhak Helman
Deepen your touch!
Expand your skills and techniques.

July 28 - 31, 2023 in Vienna
This course focuses on understanding energy flows through the body.
In this 4 days Advanced Thai Yoga massage course you will go deeper, take a closer look at the concept of the yogic "5 bodies" or "Pancha Kosha" to understand energy flow and prepare for the correct application of advanced Osteo-Thai techniques.  The Advanced course is suitable for anyone who already has experiences in this form of bodywork.
Through observation of the body's subtle changes,…
we can see where there are blockages and where energy flows freely. You will learn how to make a diagnosis based on these concepts, which energy lines you should then work on, and so determine how to apply the massage correctly.
With techniques from the Osteo-Thai you will focus on the knees, back, shoulders and neck.
Principles of traditional Thai massage and Osteopathy (harmonic techniques)
Supine & prone positions
Static and dynamic techniques
As usual we will include Meditation, Hatha Yoga, Bhakti Yoga and of course lots of Thai Yoga Massage.
What you will learn:
How to make a diagnosis
Massage tools to work in particular the energy lines accoding to your diagnosis
Static and dynamic ways of working
How to deepen your touch
To treat the back, shoulders and neck
To touch and heal the knees
The course is open to students with experience in Thai Massage, as well as bodyworkers of other therapies.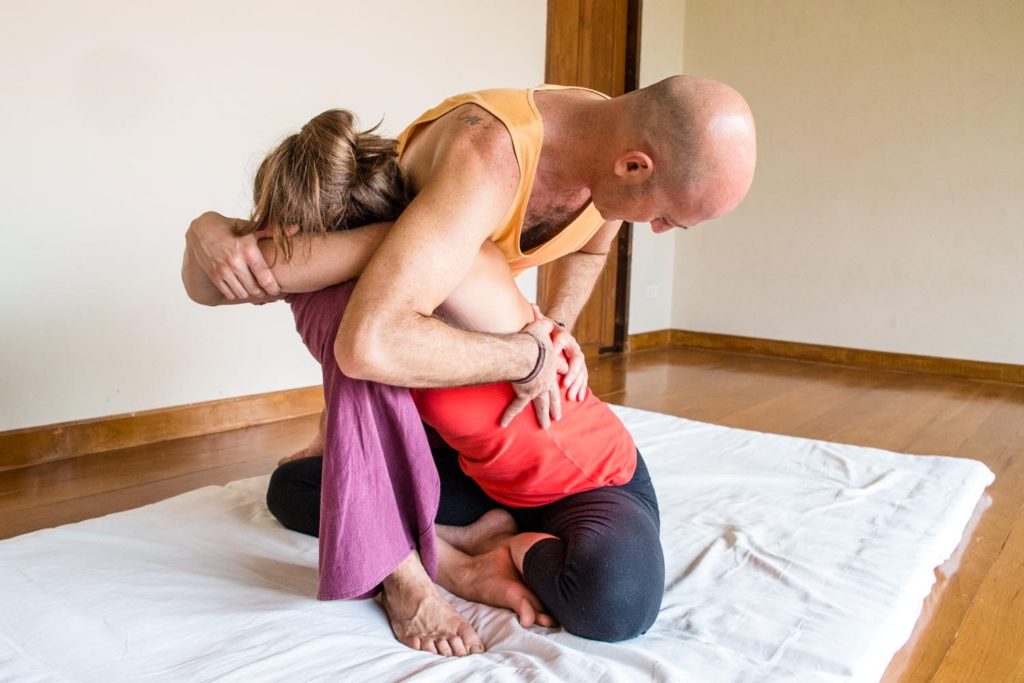 The Facilitator:
Itzhak was born in 1970 in Israel. In 1992 he visited India and Thailand where he started to be interested in knowing more about Eastern Philosophy including the practice of Yoga and meditation.
After a long journey in India, Thailand and Japan, Itzhak returned to Israel where he found himself working as a carer in an institute for adults with special needs.
In 1997 Itzhak´s teacher Asokananda, who is well known as the founder of the Sunshine Network in Thailand, encouraged Itzhak to study further with him and in the same year he participated as his student in one of his Thai yoga massage courses held in Chiangmai, Thailand.
From 1999 Itzhak was authorized by Asokananda to teach Thai yoga massage on a regular basis at the Sunshine Network in Chiangmai Thailand. Since then Itzhak has taught more than 275 courses, both for beginners and advanced practitioners.
These days Itzhak is teaching Thai Yoga Massage around the world including places like: India, Thailand, Mexico, Spain, Costa Rica, Sweden, Germany, England, Greece, Switzerland, Israel and Austria.
Daily rhythm at Thai Yoga Massage Course:
07.00am – 08:30am:  Meditation & Yoga
08:30am – 09:30am:  Hearty Breakfast
09:30am – 12:30pm:  Thai Massage session 1
12:30pm – 02:30pm:  Lunch & Siesta
02:30pm – 05.30pm: Thai Massage session 2
We start on Friday July 28, 2023 at 7 am.
Directly before this course, an Foundation Thai Massage course will start on July 19. So you have the excellent opportunity to deepen your experience. More information here. 
Price
The course is open for already experienced Thai Yoga massage practitioners. That means you've at least completed one foundation course.
You will receive a certificate of attendance from the International Society of Thai Yoga Massage  – the Sunshine Network.
Space is limited!! Registration necessary!!
Price:  € 420,- icl. VAT (includes Thai Yoga Massage in theory and practice, a great manual, Meditation and Yoga and a delicious breakfast)
If you are an old student of Itzhak, you get the reduced repeater price of € 380. Please let us know when and where you have practiced with Itzhak.
To get an impression about the course, see Itzhaks website.
Registration for Thai Yoga Massage course with Itzhak Helman (binding):
You will receive a confirmation email of your registration in any case. Please check your spam folder.
[contact-form-7 id="5467″ title="Anmeldung Thai Kurs"]